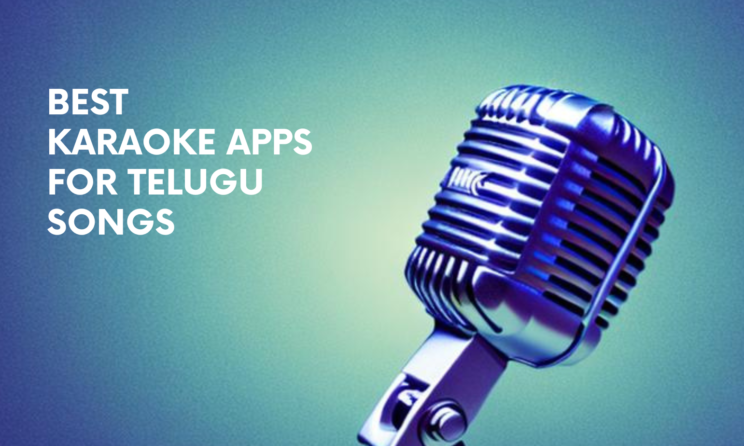 Let's embark on a sweet journey to explore the harmonious world of Telugu music with perfect partners in your pocket. Whether you are an Android enthusiast or an iPhone lover, the search for the best karaoke apps to suit your love for Telugu music is about to come to an end. Get ready to sing your heart out with our handpicked selection of 'Top 6 Free Karaoke Apps for Telugu Songs'. Make music a priority as we engage in musical expression and immersive entertainment.
What Exactly Constitutes a Karaoke App?
A Karaoke app is your virtual stage, a digital doorway to the world of musical performance. It's a versatile tool that empowers anyone, regardless of their vocal prowess, to sing along with their favourite songs. These apps typically provide instrumental tracks of popular songs, complete with lyrics on screen, allowing users to step into the shoes of their favourite artists and belt out tunes with confidence. Whether you're a seasoned performer looking to refine your skills or a beginner testing the waters of your musical talent, a karaoke app offers a platform for creative expression and pure entertainment. It's the modern-day karaoke machine, compact and accessible via your smartphone, ready to transform any gathering into a memorable musical experience.
Top Karaoke Apps for Enjoying Telugu Songs
Here's a brief overview of each of the top 6 Karaoke apps for enjoying Telugu songs:
SingBae: SingBae, apart from its extensive Telugu song library, stands out with its user-friendly interface. Its intuitive design ensures that even beginners can navigate the app effortlessly. It's the perfect platform to explore Telugu music, thanks to its diverse song collection and the ability to apply various vocal effects that add a unique touch to your karaoke sessions.
Smule: Smule's global user base offers an unparalleled opportunity for collaboration. Singers from around the world come together on this platform to create memorable musical experiences. With its Telugu song selection and top-notch audio and video recording capabilities, Smule sets the stage for you to shine as a global performer.
StarMaker: StarMaker is not just an app; it's a vibrant community of passionate singers. Beyond its extensive Telugu song catalog, it fosters creativity and interaction among users. The real-time pitch correction and special effects enhance your vocal performance, making you feel like a true star during every karaoke session.
Yokee™: Sing Karaoke & Sing Song: Yokee™ ensures that everyone, from novices to experienced singers, can enjoy the world of Telugu karaoke. Its user-friendly interface makes it accessible to all, and its diverse song genres cater to various musical tastes. Whether you're singing for fun or aiming for perfection, Yokee™ offers a welcoming stage.
Karaoke – Sing Karaoke, Unlimited Songs: If variety is what you seek, this app has you covered. With its limitless collection of Telugu songs and tracks in multiple languages, you can explore the rich tapestry of music. Karaoke enthusiasts will find this app to be their ultimate companion for endless singing enjoyment.
SingPlay: Karaoke Your MP3: SingPlay's unique feature of converting MP3 files into karaoke tracks opens a world of possibilities for personalized Telugu karaoke. While it may involve some user-generated content, it's an excellent choice for those who want to transform their favourite songs into interactive and engaging karaoke experiences.
Unlocking Musical Potential: SingBae's Top Features:
SingBae offers a compelling set of the best karaoke app features that make it a standout karaoke app.
Extensive Telugu song library for diverse musical choices.
User-friendly interface catering to all levels of singers.
Real-time vocal effects like pitch correction and voice modulation.
Easy collaborative singing with friends and fellow enthusiasts.
Monetization opportunities through online sharing, views, likes, and shares, turning singing passion into profit.
Creating Karaoke Songs with Your Vocals: Share Online and Earn!
In the world of music and digital creativity, the SingBae app emerges as a game-changer, offering aspiring singers a platform to learn, sing, and share their talents while reaping the rewards.
SingBae app is more than just a karaoke app; it's a gateway to your musical dreams. With its user-friendly interface and extensive Telugu song library, SingBae encourages users to showcase their vocal prowess and creativity. What sets it apart is the opportunity it provides for singers to earn online.
Through collaborations, sharing performances on social media, and even monetizing their content, SingBae empowers talented individuals to turn their passion into a sustainable source of income. So, whether you're looking to kickstart your singing career or simply share your love for music with the world, SingBae is the app that can help you learn, sing, share, and earn while doing what you love.
Conclusion:
In conclusion, the world of Telugu karaoke has never been so accessible and exciting thanks to these top apps. Whether you are a singer who wants to showcase your talent or just want to have a fun karaoke night with your friends, there is an app for you on this list. SingBae, Smule, StarMaker, Yokee™, Karaoke, and SingPlay offer an amazing array of Telugu songs and features, allowing everyone to channel their inner musician so, why wait? Download your favourite app, choose your favourite Telugu songs, and make music the centre of your life. These karaoke apps are your gateway to endless musical fun and a world where anyone can be a star. Get ready to sing your heart out and take the sweetest trip ever!